here in Indiana. It makes the mums more beautiful than ever. I used to have mums growing around my light pole but they died out. Those mums looked like something you would see at Disney World. I was amazed at how perfect they were. I bought new pots of mums this year, rust and yellow colored mums. They take a lot of water so I was glad to see the rain.
I visited my sister in Tennessee this weekend. I thought I would see more color in the leaves there but our leaves in Indiana have more of the reds and yellows that make up the beautiful scenery of fall. We did see Cherokee Lake and it was gorgeous. I don't know why but we had never visited the lake before and it is very close to her house. We stopped at an overlook to see out over the land where Davy Crockett and Daniel Boone once walked. I am amazed every time I think of the settlers crossing such rugged country. I don't know how they made it in the winter months. Of course, some of them didn't make it. I appreciate the highways on which we drive.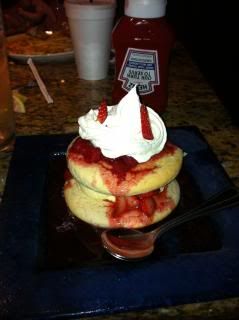 I ate horribly all weekend and it was heavenly! I had strawberry shortcake made with real shortcake and real whip cream. That same day, a few hours later, I had mint chocolate chip ice cream in a waffle cone. I felt almost sick later but it was worth it! Back to the real world now.