Choosing the right kind of diapers for your kids can be a challenging task. Making the most cost-effective choices while still keeping your baby's bum comfortable and rash free requires a lot of research. There are a variety of choices open to moms and dads ready to stock up on diapers, and knowing the pros and cons of these options can save time, energy, and money.
It may seem counter intuitive to spend so much effort picking out something that is only going to end up being soiled and thrown away. But this doesn't have to be the case. Not if you use cloth diapers, the alternative to the single-use diapers parents are most familiar with. Cloth diapers are growing in popularity due to their low impact on the environment, their ease of use and the savings they bring parents.
Jillian's Drawers, a cloth diaper retailer, suggests a savings of $4000 as a result of using the same cloth diapers for two children. Additionally, Consumer Reports has estimated savings between $1500 and $2000 for parents who use cloth diapers instead of disposables.
However, cloth diapers do need to be cleaned, which costs you time and money. Even with this consideration, cloth diapers are significantly less expensive than their disposable counterparts. This is especially true for families with multiple young children. Every household's financial situation is different, so to get a personalized estimate, try using Diaper Pin's cloth savings calculator.
"I wanted to switch to cloth diapers when my second child was about eight months old, but I was scared to death of trying "cloth" and worried I would pay more money than disposables. I ended up holding out until my third baby was five months old before switching over," said Katie Kimball in a piece for BabyCenter.
"It can't be denied that there's an initial investment in cloth diapers, but it definitely doesn't have to be more than disposables over the long run. You can spend more on cloth than disposables if you get fancy dancy kinds and buy more than you need to, but there are frugal routes, too. Looking back, I do wish I would have started cloth with my middle child when I considered it at eight months old."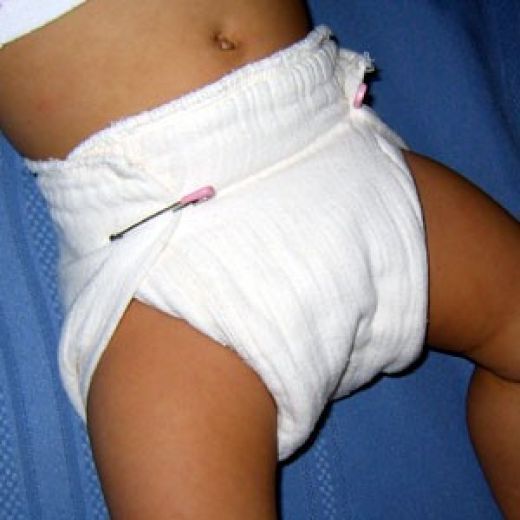 It may not seem like you are making a very big difference by using cloth, but a few statistics might change that perspective. Consider the fact that disposable diapers are the third largest consumer product in landfills today. They are additionally 4% of all solid waste. Also, there is no certainty around the amount of time disposable diapers take to decompose, but estimates say 250–500 years. Finally, in 1988, 18 billion diapers were sold and used in the United States alone. The amount of diapers used every year is remarkable. So switching the type of diapers you use may seem like a small contribution, but when you remember these facts, every household using cloth is making a difference.